14 June 2022
Media Advisory 
The Minister of Social Development, Ms Lindiwe Zulu, will on Tuesday - 14 June, table the Social Development Budget Vote 19 to the second house of parliament, the National Council of Provinces (NCOP).
The Social Development budget, which is the government's third-largest budget for the current financial year - 2022/23, is targeting improving the living conditions of poor and vulnerable South Africans including children, older persons, and persons with disabilities.
The NCOP budget vote, will be delivered virtually, to reflect on the progress made in line with the Social Development portfolio priorities and its budget projections for the current financial year.
The expectation is that the Minister will, amongst other areas, focus on service delivery plans and the provision of a comprehensive social safety net which directly generates income to more than 18 million South Africans as well as the Top-Up and the Special COVID-19 Social Relief of Distress (SRD) grants.
Members of the media are invited to attend and cover the NCOP Social Development Budget Vote scheduled as follows: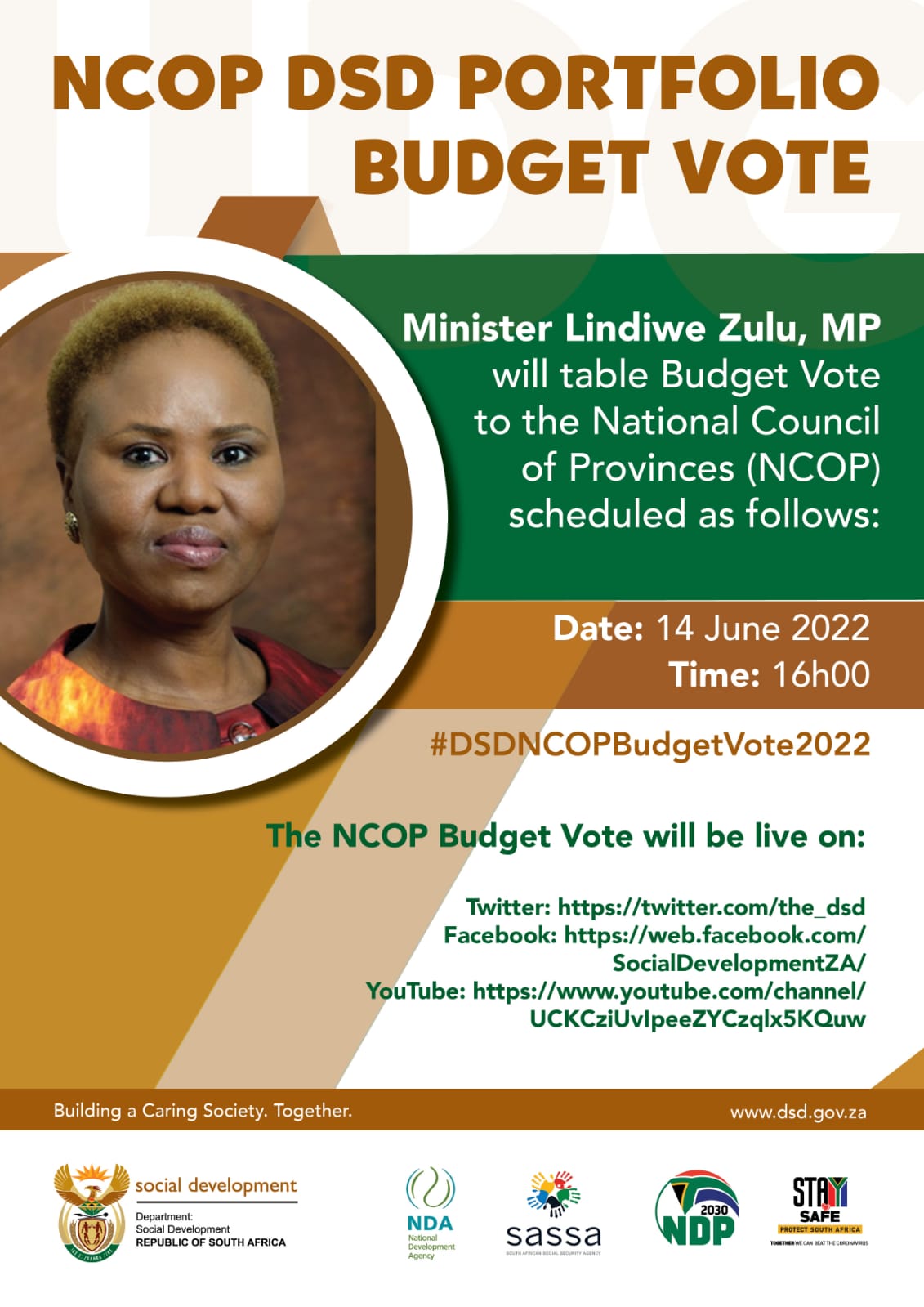 TABLING OF NCOP DSD PORTFOLIO BUDGET VOTE  
Date: Tuesday, 14 June 2022
Venue: GovChat Offices, 1st Floor, 37 Parliament Street, Cape Town – Western Cape 
Time: 16h00   
YouTube: https://www.youtube.com/channel/UCKCziUvIpeeZYCzqlx5KQuw 
Facebook: https://www.facebook.com/SocialDevelopmentZA/ 
Twitter: https://twitter.com/The_DSD 
Radio: https://iono.fm 
Media can RSVP by contacting Ms. Sharlene Naiker on 082 673 5849 / e-mail: This email address is being protected from spambots. You need JavaScript enabled to view it.  and Ms. Nomfundo Xulu-Lentsoane on 066 480 6845 / e-mail: This email address is being protected from spambots. You need JavaScript enabled to view it.
ISSUED BY THE NATIONAL DEPARTMENT OF SOCIAL DEVELOPMENT
Media enquiries may be forwarded to Ms. Lumka Oliphant on 083 484 8067 or This email address is being protected from spambots. You need JavaScript enabled to view it.